Choosing a Training Centre
It's one of the most important considerations when starting a new venture, or investing in your business, so what makes us stand out to help you begin your new career, or grow your existing business?
Why choose UK Detailing Academy for your training?
It's in the name…
When looking for a training provider, you will find there are many full-time detailers out there who offer "training" as a side business, at seemingly low prices. UKDA takes a completely unique approach. We are, entirely, a training centre for detailing skills and career development. We do offer detailing services under our original sister company to select customers because if we didn't, we'd get out of practice and wouldn't have the chance to learn and test new equipment and developments in the industry – but when you come to us, you are coming to a fully equipped detailing training centre designed to deliver high-quality courses which benefit you and your business.
Our courses are designed around you, the learner, to give all the information needed to complete a task at hand. We don't claim to make you a master detailer in 5 days, because that isn't how skill development works in the real world. We give you all the theory knowledge, practical demonstration, and hands-on guidance to complete what you need to at that point. We then illustrate it in a packed guidebook. Follow up with coursework to cement the knowledge, and encourage you to keep in touch for support or guidance when out and about working. We then add to that work in future courses so there is a strong foundation of knowledge to build on, so you understand not only how, but why techniques work.
We want to see success stories from our graduates, so if you need to take things slower, or spend longer on certain details, our courses adapt to this. Our experienced trainers are just that – trainers. The distinction is an important one as not everyone who is good at detailing is good at teaching detailing. We have invested in including training psychology and methodology to ensure you leave us with the knowledge that you need to progress and succeed, and the confidence to use the skills effectively going forward.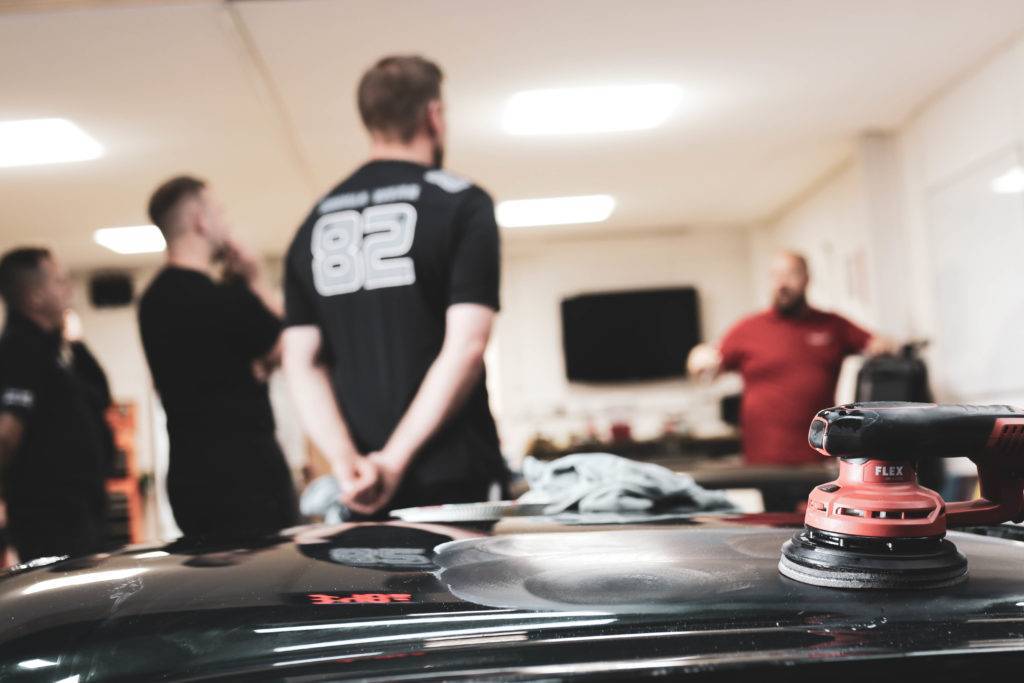 Not just practical skills.
Around 60% of a business is knowing how to do a job correctly. The other 40% is knowing how to promote it, how to charge for it, how to deliver it and what needs to happen in the background to make it a success. Whilst a lot of what we teach is practical, we offer business skills as both standalone courses and as part of our syllabus, to ensure you know all the ins and outs of detailing business management, something most have to find out the hard way through a bad experience.
Accreditation
Many manufacturers will offer an "accreditation course", which effectively amounts to a paid-for sales pitch with an ongoing discount. Accreditations you can receive at UKDA are selected for their skill merit and value to the business. They all involve hands-on education in not only the products but their overall safe and effective usage, with skills transferrable to other aspects of your business. All are tested and created to give a structured learning framework and offer qualifying badges which have meaning to both your business and your customers.
When you choose your training provider, we hope you will see how much more UKDA can do for you than any other detailer training provider, but if you are still unsure just give us a call for a no-obligation, friendly chat about your requirements, and we can give you some advice and options to think about…
Learn a new service for your business Colourlock is one of the world's largest leather care and repair manufacturers, supplying OEM end leather solutions from the factory to the end user…
Lasts 1 day The Professional Valeters and Detailers trade association has, since 2013, promoted the values of its members as a professional body for the car care industry. Its moniker: "Skilled, Proven and Insured", was…